The success of a commercial space is significantly influenced by the presence of a healthy, clean environment. Is there a pest infestation on your commercial property, such as wasps, termites, rats, bugs, ants, cockroaches, or any other pests? Are you looking for reliable business or café pest control services in Kolkata?
Zan's Crew commercial Pest Control services in Kolkata provides cutting-edge treatment options for a variety of pests. For Kolkata's businesses, we provide complete services that include a thorough examination, ongoing treatment options, and cost-effective pest control costs.
We have raised the bar for pest treatment with our qualified pest control exterminators, who are accessible throughout Kolkata and use cutting-edge equipment and methods.
Zan's Crew Work Speaks for itself
Regardless of the size of your business, all of our commercial pest control treatments are customized depending on the pest infestation severity, insect species, and property damage.
Along with the specialized pest services mentioned above, we also offer general pest treatment for business settings and domestic pest management, which includes getting rid of termites, cockroaches, ants, and rats. With the help of this routine service, your business location will look clean, healthy, hygienic, and welcoming to both employees and clients.
Our skilled pest control specialists use the trapping approach to get rid of the spider and moth infestation in your commercial buildings. It is a powerful method for getting rid of any bug that crawls. When it comes to commercial pest control, professionalism and dependability are crucial. We genuinely understand this. We provide uncompromising pest control solutions as a result.
For Pest Control Services, Why Zan's Crew Pest Control?
We have been offering our services for many years, making us the most reputable pest control business in Kolkata. Thus we have a better idea on the variety of situations of pests and how to tackle them. We use our services to change lives because of the following:
100% assurance of fulfillment
Ideal for a variety of commercial environments, including warehouses, airports, and hospitals
Full inspection services and upfront pricing
Fast pest control service available today or tomorrow
Certified pest control specialists
contemporary equipment, insured services
Safe, kid-friendly insect control solutions
pleasant, smooth customer service
Services for Commercial Pest Control
To increase the value of your company, Zan's Crew Pest Control has a four-stage pest management and elimination approach. Our thorough, four-stage treatment method helps lower the danger of product contamination.
Inspection of Commercial Pest Control
Our licensed commercial pest control specialists will visit your commercial area as soon as we get your request for pest management and perform a thorough inspection. We will identify and record the species, level of infestation, and extent of the damage caused by the different types of pests on your property during the procedure.
Plan for Commercial Pest Control
We will develop a customized treatment plan based on the findings of the inspection to guarantee a pest-free working environment for your company. The type of treatment, the projected completion date, the anticipated outcomes, and any directions for you and your staff will all be included in the treatment plan.
The exterminators from our Melbourne pest control company will finish the pest control treatment according to their schedule. We may select a combination of eradication techniques, including insecticides, fumigation, pest traps, and more, depending on the type of pest and the severity of the infestation.
For your space to receive the long-term benefits of pest control, ongoing prevention is crucial. We may inspect your commercial premises after the treatment is finished to look for signs of an infestation. If there is a severe infestation at your institution, it may frequently need many levels of treatment spread out over several days. We will provide you with detailed advice on how to lower the likelihood of a pest infestation at your property.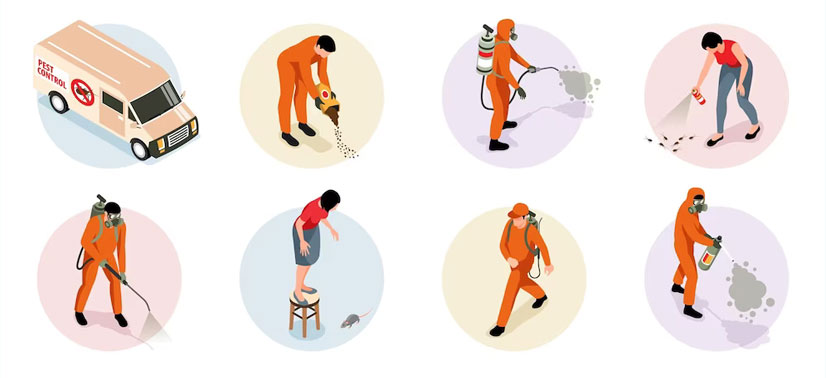 At Zan's Crew Pest Control, we offer speedy, secure, and effective pest removal services by utilizing cutting-edge products and procedures.
Want to quickly restore business operations with restaurant & café pest control? Call us right away.
With the least amount of disruption to your business, we are pleased to offer emergency pest inspection and treatment services.